WORLD HARMONICA FESTIVAL 2017 TROSSINGEN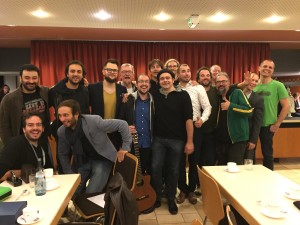 Every four years, Trossingen – the hometown of Hohner harmonicas, hosts the World Harmonica Festival. Harp players from all over the world come to take part in this unique event full of interesting performances, competitions, and workshops. Most of all, it is a chance to meet a lot of interesting people addicted to this little instrument. As similar meetings are very rare, the harmonica festival is also a kind of a "family meeting". I happen to be a proud member of this family and I offer some of my impressions from the family meeting.
After more than nine hours in my car, I managed to make it for the opening ceremony on time. The festival began on the evening of the 1st November 2017 when the president of the International harmonica federation Gerhard Müller delivered his opening speech. I will remember that night's performance of the Harmonica orchestra Hohnerklang, which consisted of a chromatic harmonica section and an accordion section, as the most bizarre act I have ever seen – mainly due to the repertoire and the arrangements.
Within five days, the visitors of the festival could see a lot of world-class musicians – harmonica players. Harmonica seems to be very popular in Asia and there is no wonder that there were plenty of players from this part of the world. I would have never said that it is possible for a tremolo harmonica to be a concert instrument. Not until I heard Takamoto Mizuno, Yuko Yanagaw from Japan. Artist such as
Carlos del Junco, B. B. & The Blues Shacks, Joan Pau Cumellas Ruiz, Marko Jovanovič, San2 And His Soul Patrol, Willie Burger or Antonio Serrano appeared on the stage. And it was a real treat for harmonica lovers. Harmonica ensembles were also plentiful and I really enjoyed Veloz Harmonica Quartett (from Hong Kong) – Kronos Quartet of harmonica.
The concert I was really looking forward to was a special Toots Thielemans memorial concert, which took place in the local church. Three chromatic virtuosos met on the stage: Adam Glasser (Martha Reeves, Hugh Masekela or Dominic Mille), Jens Bunge, and Antonio Serrano. However, the band that accompanied them disappointed me.
World harmonica festival saw also a lot of competitions. I was mostly interested in two categories: Diatonic Blues/Rock/Country/Folk and Diatonic Jazz/Melody.  I competed in both and I was very curious about the level of other players from different parts of the world. That is another interesting aspect of the event – people whom you know only from the internet (youtube) meet, exchange experience and make friends. To mention just a few names, Marcin Dyjak from Poland and Cristian Istronoza from Chile were my personal favourites for the top three positions in jazz category. A great number of players from Argentina were a big surprise for me. I learnt that there are about 40 good players just in Buenos Aires, and there is also a harmonica school with more than 200 students – something unimaginable at the place where I live. Anyway, in category Blues/Rock/Country/Folk, I performed my original tune Intresque.
Judges, world-class harmonica players, had to listen to more than 30 performers. Judging and ranking musicians is often a tricky business. Different technical aspects of playing were judged – technique, intonation, rhythm, time, stage presence, etc. However, "language" or "musical ideas" did not seem to be taken into account. I managed to get the second place in Blues/Rock/Folk/Country and the fifth in Jazz/Melody. The top of the ranking was full of excellent players and I felt there could be many different players in the top three too (Martin Fetzer sounded just like Kim Wilson, Ansel Barnum played a beautiful Brazilian choro).
I mustn't forget to mention a number of workshops with the performing musicians and jam sessions that took place in Canape (jazz) and Kesselhouse (blues) every evening. They offered a chance for players to perform with professional bands and show their skill live on the stage. Every evening brought a lot of fun and the informal jam sessions lasted until the early hours.
The festival ended after five days and there was a long drive ahead of me – time to process all experiences. To sum it up, World harmonica festival is a pilgrimage to be taken by all harmonica players once in their lives.